The Italian Riviera
Those seeking an unforgettable ocean setting surrounded by some of the most dramatic
natural scenery of the coast should consider the Riviera

Portofino.
This tiny fishing village with its gaily coloured houses lies in a beautiful protected inlet.
Its pretty harbour with its
waterfront boutiques and restaurants is an ideal location for relaxing and enjoying the lovely Mediterranean climate.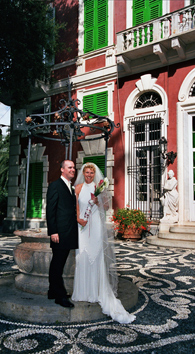 Santa Margherita Ligure
A fashionable sea-side resort situated on the Portofino Coast immersed in vegetation and situated between Rapallo and Portofino. An ideal setting for romantic swims

Portovenere
Dominated by a 12th-16th century citadel, this small severe looking town with its tiny streets, breathtaking views and buildings dating as far back as the 12th century.